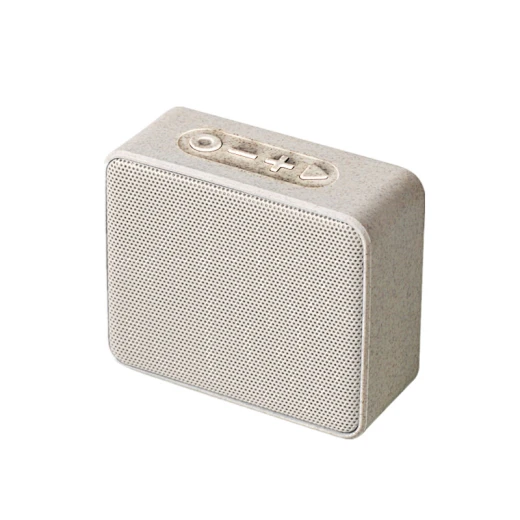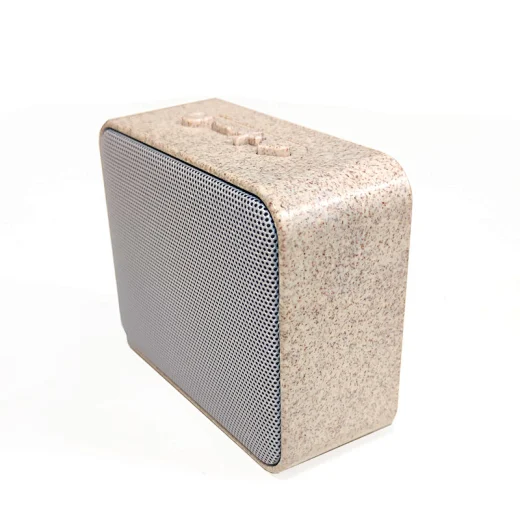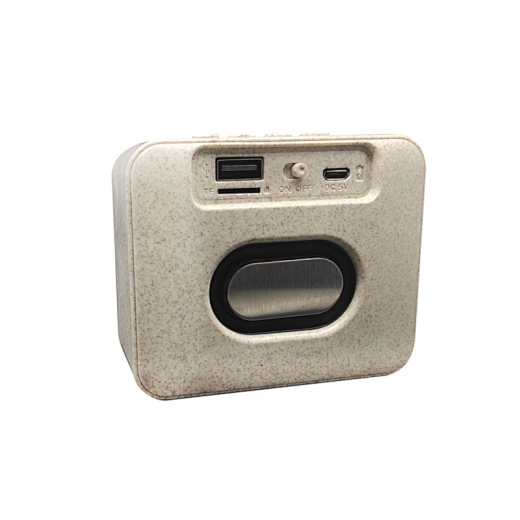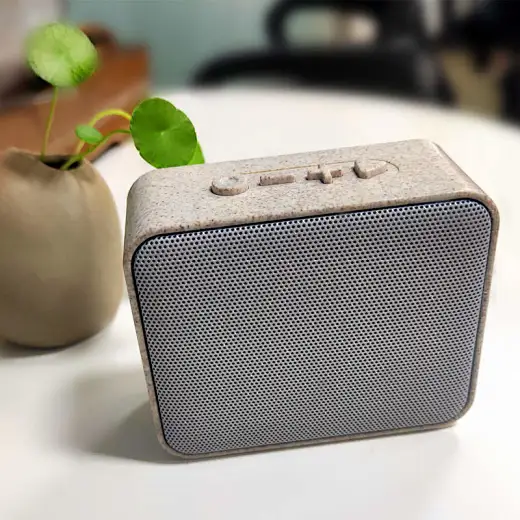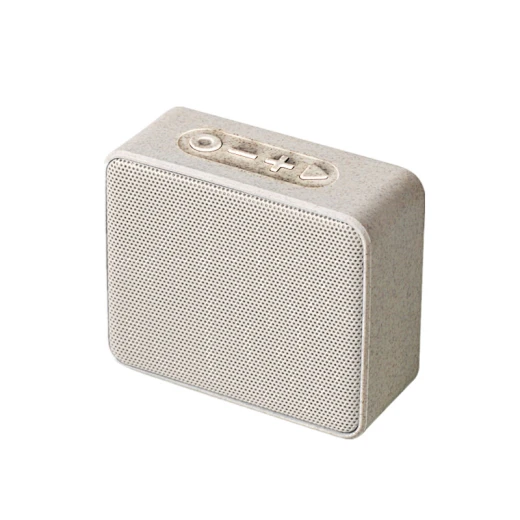 Eco friendly Bluetooth speaker
MS154B
Wheatstraw square shape bluetooth speaker,with small size,but 5W output loud speaker,support to do OEM design on front mesh by UV printing.
WheatStraw Eco Friendly Bluetooth Speaker
Model Number:
MS154B
Features:

Wheatstraw new material,environmentally friendly.
Bluetooth speaker in classical square shape.
Mini size,very light for carry.
Receive/End/Reject call.
Support OEM UV printing on front mesh.
5W big speaker output,plus subwoofer,enjoy the great sound.

Material:
Wheatstraw
Bluetooth speaker Color:
Wheatstraw originalcolor
Weight:
180g
Dimenstions:
88*40*72mm
Power Out:
5W
Subwoofer:
1PCS
Bluetooth Version:
5.0
Bluetooth Distance:
Up to 10m
Battery:
400mAh
Frequency:
80Hz-20KHz
SNR:
>=75dB
Distortion:
<=1%
Play Time:
3-5h
Charging Time:
1-2h
Warranty:
12 months
Certification:
CE, RoHS, FCC
Support:
Bluetooth play,Handsfree,TF card play,AUX,USB play,FM.
Product Includes:

MS154B Eco bluetooth speaker x 1
Micro USB charging cable x 1
Manual x 1
Standard paper box x 1

Packing details:
Quantity/Carton:50pcs; Carton Gross Weight:14KG; Carton Size:40*25*23cm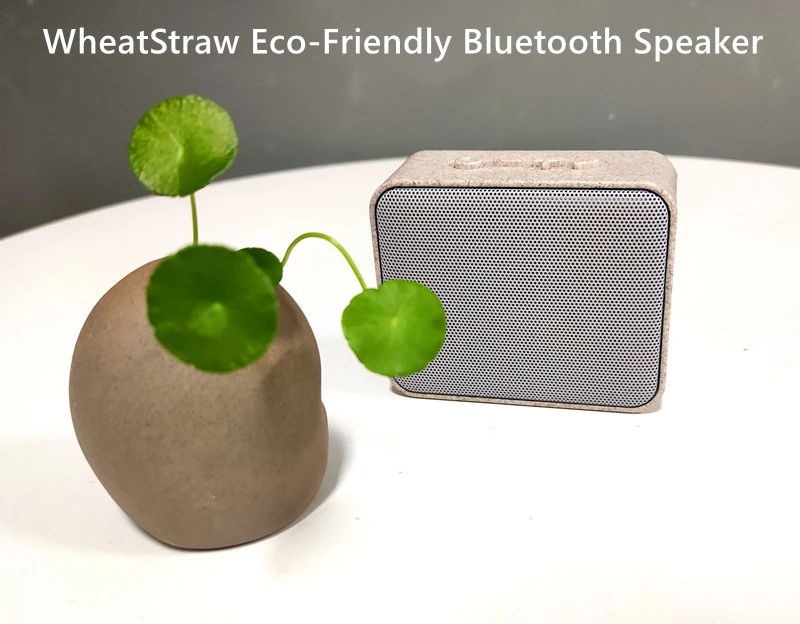 Small size, 1/2 cell phone size,compared to other big size bluetooth speaker,it is designed
moreconvenient to carry,and outstanding apprearance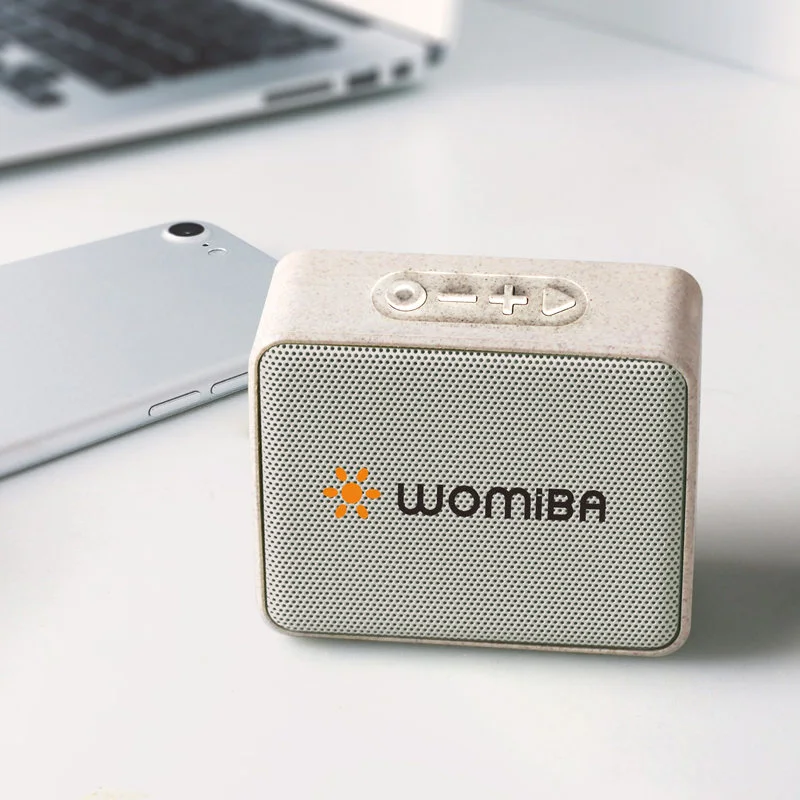 This Bluetooth Speaker has Big Output Speaker Driver 5W,Size:45mm,plus diaphragm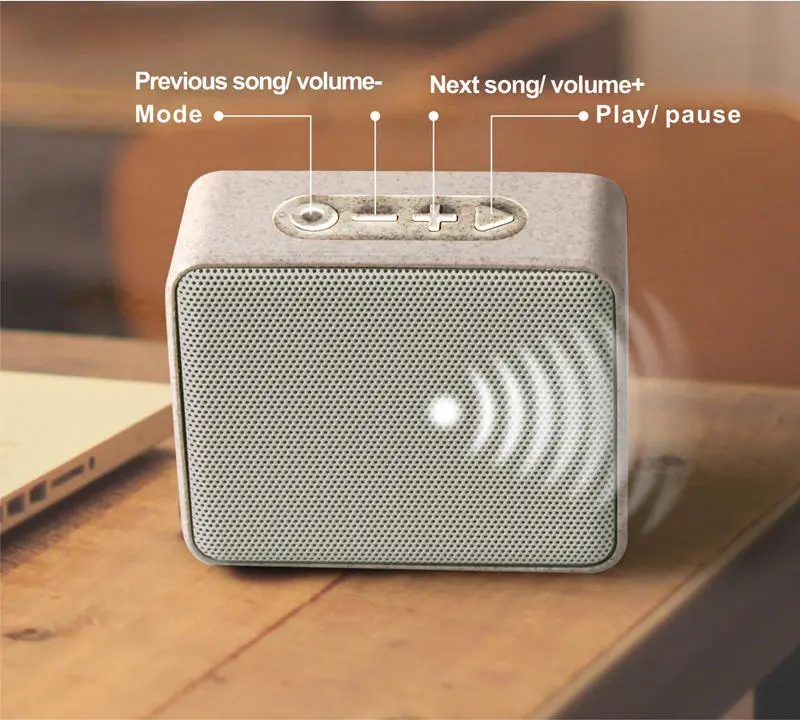 Description of the Function Keys of Eco Bluetooth Speaker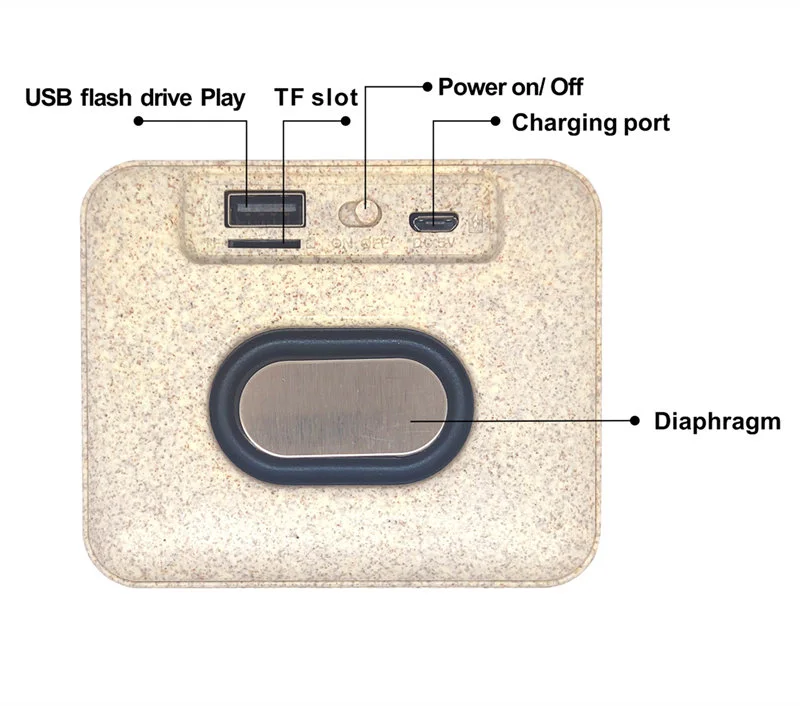 How to Custom Bluetooth Speaker?
We can custom the logo on mesh and custom the case color of the bluetooth speaker.
1. Custom the color of Eco bluetooth speaker,pls check with sales for MOQ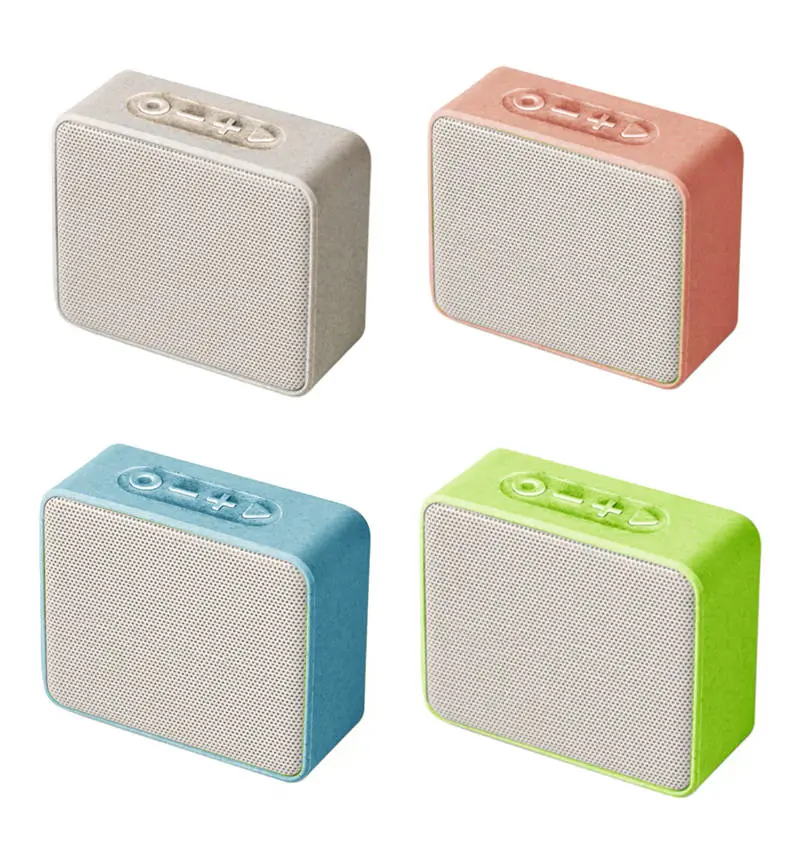 2.Custom the logo or pattern on front mesh of Bluetooth Speaker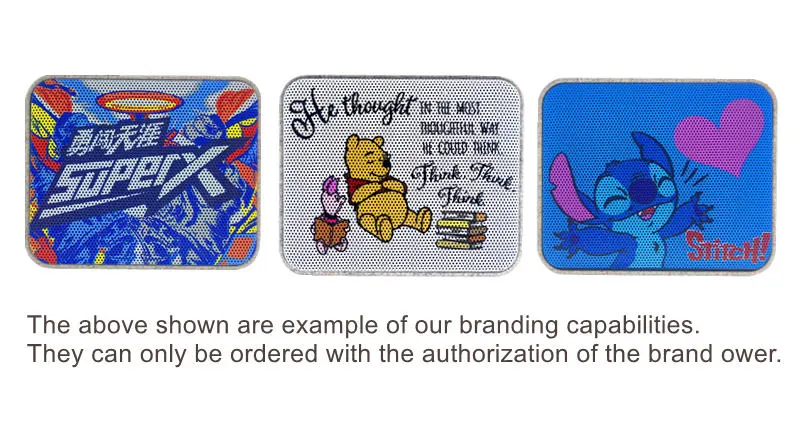 3.Custom the Package box of Eco Bluetooth Speaker.
We can use standard white paper box,or brown recycled paper box,or full color designed box.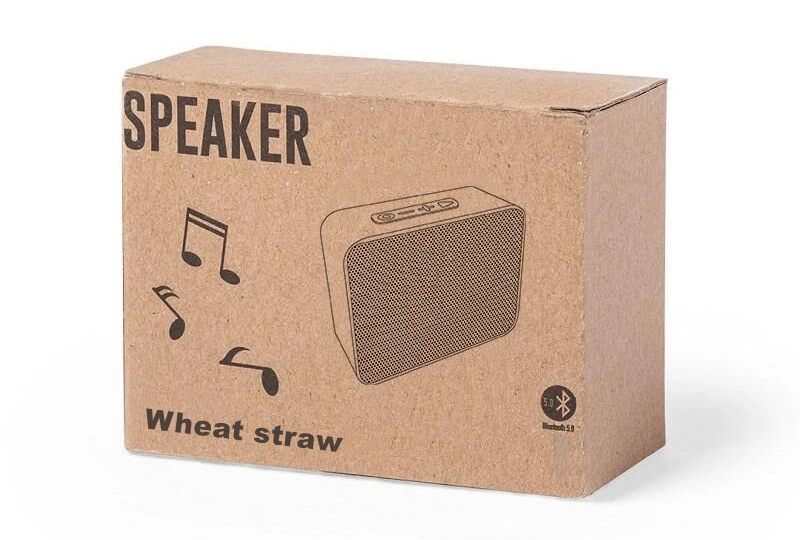 Description of Material of Eco Bluetooth Speaker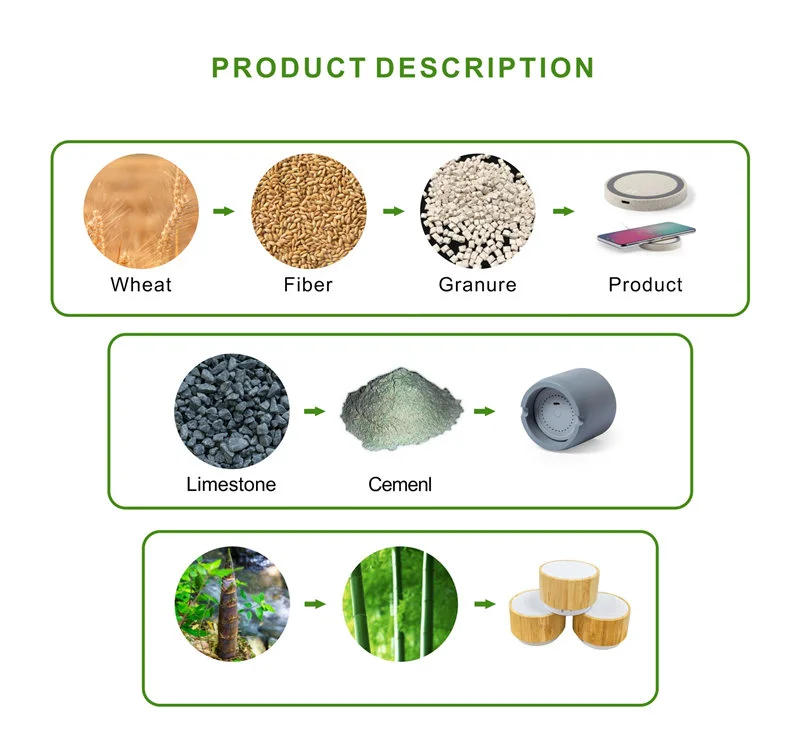 Why Eco bluetooth Speaker?
Our eco-friendly Bluetooth speaker is made with a Wheatstraw exterior and recycled plastic interior, making it the perfect option for environmentally conscious music lovers. Not only is it stylish and sleek, but it delivers high-quality sound and is compatible with all Bluetooth enabled devices. The Eco bluetooth speaker can also be used as a speaker phone for hands-free calling. The rechargeable battery provides up to 3-5 hours of playtime, perfect for outdoor activities and parties. With this eco bluetooth speaker, you can enjoy music while reducing carbon footprint. Perfect for home, office, camping, and travel. Say goodbye to disposable plastic bluetooth speakers and embrace sustainability.
MiBA Factory Photo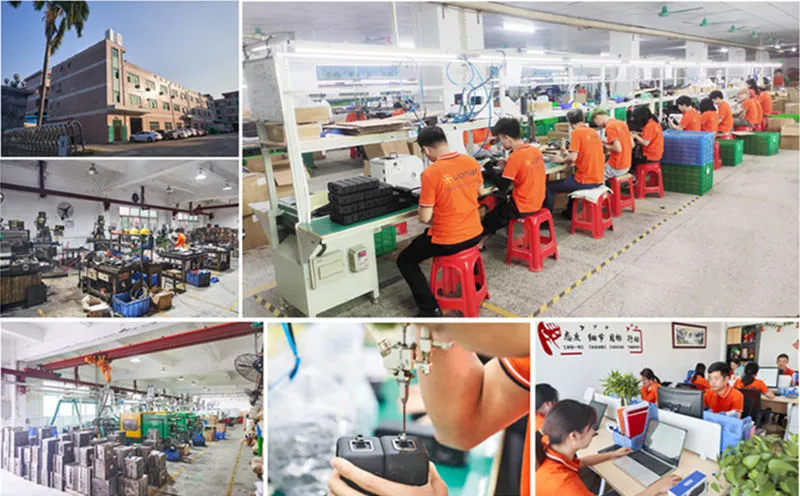 MiBA Eco Bluetooth Speaker Logo Options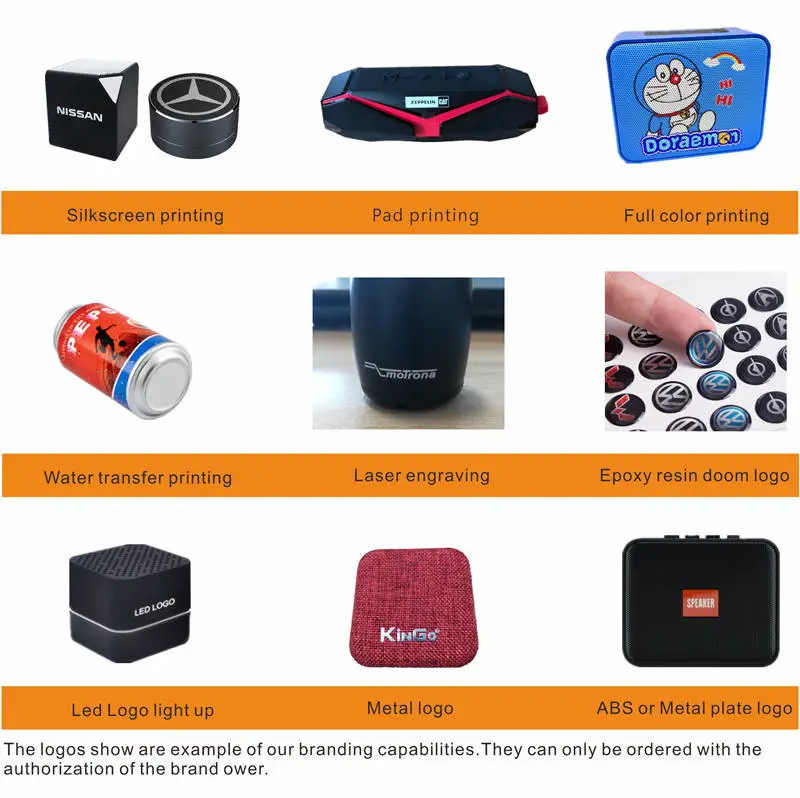 MiBA Bluetooth Speaker Accessory Options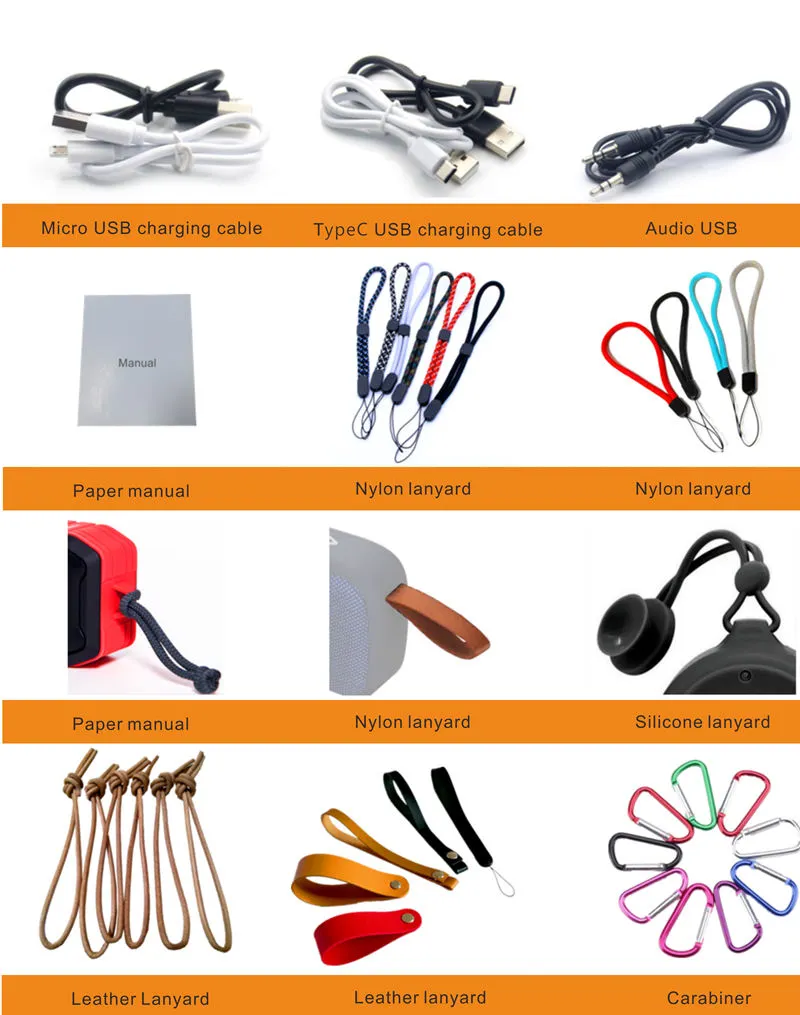 MiBA Bluetooth Speaker Package Box Options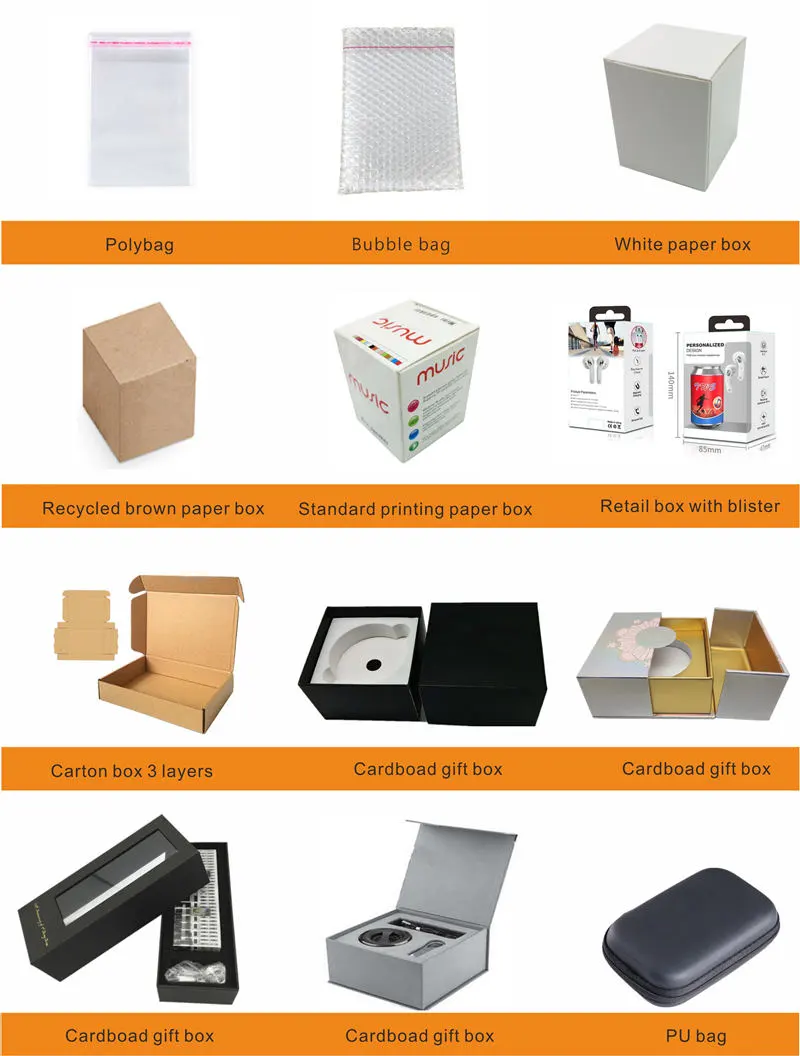 FAQ
1.Sample

Q:If you can send sample to us?

MiBA's Answer:

Yes,we can send you samples.Normally for cheap models,we can offer free samples,but customer should bear the shipping cost.

For samples which we have charged sample cost,we will return the sample cost to our customer when the mass production order confirmed.
For customised samples like customise product color or package,the sample cost will not be returned.

2.Inquiry

Q:How much is the product?

MiBA's Answer:

Pls send full detail inquiry to our sales department(sales@mibachina.com).Include Quantity,Logo printing,Package.

3.Order

Q:How I can place an order?

MiBA's Answer:

1>Contact with our sales team
2>Tell our sales team details,get the quotation and confirm the price.
3>Our sales will do PI for you.
4>After PI confirmed,customer should arrange payment to MiBA.
5>Proceed with Producing.
6>Ship the products to customer.

Q:Do you have MOQ?

MiBA's Answer:

Yes,Normally our MOQ is 100pcs,for some special models,MOQ is 500pcs.
But your demand is very few,you can also contact our sales stuff,we will do our best to support you.
sales@mibachina.com

Q:What kind of files should I provide to customise the product with my logo?

MiBA's Answer:

To print a logo or design on a product you will need to send us a file in vector format,
which, unlike other formats, always guarantees clear printing and high-quality results.
Vector files are named .pdf, .eps and .ai.

Q:What is a vector file?

MiBA's Answer:

Vector files are graphic images that can be used in any size and without any loss of quality or increase in weight. This is why they are ideal for printing logos
or illustrations. You can recognise vector files because they are named .pdf, .eps and .ai. Company logos are usually created in vector format, since it is suitable
for all uses. If you do not have a vector file, please contact our staff by e-mail at sales@mibachina.com for support.

4.Transport

Q:Do you ship worldwide?

MiBA's Answer:

Yes,our products are shipped all over the world.

Q:How to ship the goods?

MiBA's Answer:

There is two methords to ship goods.
1>By air/express
If customer has their own forwarder,we can send goods by customer's forwarder.
If customer don't have forwarder,we can quote the best shipping cost to our customer by our forwarder.
Our forwarder has been cooperate with us more than 5 years.It is very safe.
2>By sea
We support FOB Term and EXW term.We can help to send goods to customer's forwarder's warehouse.
If customer don't have forwarder,then we can help to quote best shipping cost to our customer by our forwarder.

5.After sale service

Q:I received the goods,but it is damaged.What should I do?

MiBA's Answer:

If you received a damaged goods,pls take pictures of all the cartons before doing anything on the cartons,especially pls DO NOT OPEN the carton before you have taken the photos of the carton boxes.
Pls take picture of all sides of the cartons.
Then open the carton boxes to check if there is any damage on the products,and take photos.
After that,pls contact our sales stuff for support.

Q:I received the goods,but many individual box are damanged,what should I do?

MiBA's Answer:

Normally MiBA will put 3% spare parts for individul box,if some box damaged,customer can change it by themself instead of re-order the boxes.

Q:I received the order but it is incomplete. What should I do?

MiBA's Answer:

If you received the order but it is incomplete,pls contact our sales stuff for support.

Q:What if the products we have ordered has problem? and what about warrenty?

MiBA's Answer:

Our warrenty term:1 year.
If any quality problem,pls contact our after sales service stuff:info@mibachina.com